Barcelona has a complete network of tourist offices and information points that are at the service of visitors. Turisme de Barcelona is at your disposal wherever you are, and to offer products and tourism services designed to help you discover Barcelona.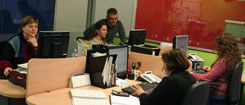 Call Center
Service providing personalised tourist information about Barcelona in several languages, by phone, fax, post and e-mail.
Phone: 932 853 834
Telephone booking: 932 853 833
Fax: 932 853 831
E-mail: info@barcelonaturisme.com
Opening time: Daily, from 8am to 8pm. | Closed: 1st January and 25th December. | 26th December and 6th January, from 8am to 2pm.
Plaça de Catalunya
Located in the heart of the city, this information office has 700 m2 of dedicated floor space providing tourist and cultural information in different languages. It also offers services such as last-minute hotel bookings and the sale of tourism products.

Other tourist information points

This winter in Barcelona
The climate won't stop you, because Barcelona offers you very interesting options for every period of the year. Here are a few suggestions for this winter:
But there's much, much more! Make the most of the winter sunshine and take a stroll along Barcelona's beaches and through its parks, discover the most important exhibitions and the seasonal cuisine, and do a spot of shopping... Do you need any more ideas?
Barcelona welcomes you to...