Across the Via Laietana from the Barcelona Cathedral is a maze of bustling, narrow streets. This is the city's medieval Santa Caterina and Sant Pere neighbourhood where, among other things, you'll find the modernista masterpiece: the Palau de la Música Catalana.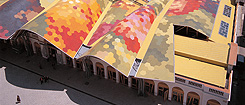 Barcelona's Via Laietana, which was built during the first half of the 20th century to link up the Eixample with the port, opened up a new route for traffic while slicing up the old town into different sections.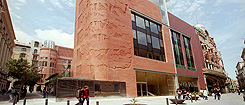 Santa Caterina and Sant Pere neighbourhood were densely populated and built-up neighbourhoods at the time, with an industrial tradition that strongly defined their personalities. Indeed, the first textile mills of Barcelona, the heirs to the neighbourhood's craft tradition, set up premises here throughout the 18th century. As a result, the Santa Caterina and Sant Pere neighbourhood became an over-populated, working-class district with poor living conditions.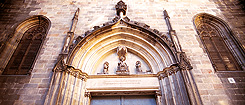 Over the years, Barcelona's municipal policy of urban redevelopment and improvement schemes has contributed to cleaning up the area and providing it with renovated facilities such as the Santa Caterina Market, which was restored by the architectural practice of Enric Miralles and Benedetta Tagliabue. The presence of the modernista jewel and World Heritage Site, the Palau de la Música Catalana, in the neighbourhood of Sant Pere, certainly confirms the interest of this zone. The legacy of the Romanesque monastery of Sant Pere de les Puelles and the main streets with their shops, also captivate curious visitors who walk through what was the first district of medieval Barcelona.
Sant Pere and Santa Caterina
Other districts
Here you'll find other districts you might be interested in

Barcelona Restaurants
The Catalan capital is also a culinary capital: prestigious chefs serve up our traditional cuisine and the flavours from around the world. Can you decide on one?

Tourist Material
Tourist brochures to discover the places of interest, the museums, the cultural activities and the best suggestions for visiting the city.

Where to shop
You'll find the magic of shopping as you experience the city. Discover a thrilling form of sightseeing: walking from shop to shop.