There are a hundred different ways to discover the Parc de la Ciutadella. You can explore the history of the former military citadel and the 1888 Universal Exhibition, or simply enjoy the surroundings and take part in one of its many cultural events. Barcelona's public park par excellence will never let you down.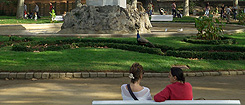 The Parc de la Ciutadella, Barcelona's urban "green lung", is no ordinary park. In 1869, the demolition of the military citadel, built a century earlier by Philip V, was highly significant for a boom Barcelona with its sights firmly set on the 1888 Universal Exhibition. The result was a park which the architect Josep Fontseré adapted to the needs of the world fair.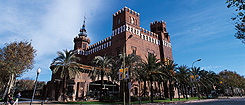 Relics of the exhibition can still be seen today in the Parc de la Ciutadella, with buildings such as the Castell dels Tres Dragons, which occupies the original restaurant designed for the exhibition by Domènech i Montaner, the waterfall and lake, designed by Fontseré, and the beautiful plant house, the Umbracle, and glass house, the Hivernacle. Barcelona Zoo has stood on the other side of the park since 1892. The Catalan Parliament stands in the parade ground, in the former military arsenal of the citadel. Nearby, you can see a replica of Josep Llimona's beautiful sculpture "El desconsol" (Distress), which is one of the most important pieces of public art in the park.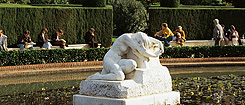 A giant mammoth and a bandstand are among the other elements which surprise visitors to this vibrant central park in Barcelona, which covers an area of 18 hectares.
Parc de la Ciutadella
Other districts
Here you'll find other districts you might be interested in

Barcelona Restaurants
The Catalan capital is also a culinary capital: prestigious chefs serve up our traditional cuisine and the flavours from around the world. Can you decide on one?

Where to shop
You'll find the magic of shopping as you experience the city. Discover a thrilling form of sightseeing: walking from shop to shop.

Tourist Material
Tourist brochures to discover the places of interest, the museums, the cultural activities and the best suggestions for visiting the city.