Enjoying Barcelona is like enjoying a good meal. Catalan gastronomy is one of the highlights of the culture of the region, which has a varied range of cuisine that is famed the world over. Bon appétit!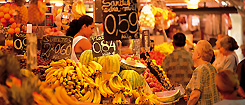 Barcelona and Its Markets
The aromas, colours, the bustle of the crowds and extremely fresh top-quality produce. A stroll through Barcelona's markets is an unmissable experience in every sense of the word.
This winter in Barcelona
The climate won't stop you, because Barcelona offers you very interesting options for every period of the year. Here are a few suggestions for this winter:
But there's much, much more! Make the most of the winter sunshine and take a stroll along Barcelona's beaches and through its parks, discover the most important exhibitions and the seasonal cuisine, and do a spot of shopping... Do you need any more ideas?
Barcelona welcomes you to...