Enjoying Barcelona is like enjoying a good meal. Catalan gastronomy is one of the highlights of the culture of the region, which has a varied range of cuisine that is famed the world over. Bon appétit!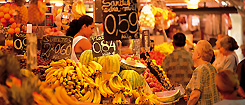 Barcelona and Its Markets
The aromas, colours, the bustle of the crowds and extremely fresh top-quality produce. A stroll through Barcelona's markets is an unmissable experience in every sense of the word.
This autumn in Barcelona
In autumn, Barcelona reveals its cultural activities and invites you to take a stroll, discover its shops and gastronomy... Here are a few suggestions:
Take a stroll through the parks and the beaches, discover new exhibitions, go to a concert or take a short trip out of town.
Barcelona welcomes you to...