The streets of the Barceloneta in Ciutat Vella district are arranged like corridors running parallel and perpendicular to the Port de Barcelona, and draw us into a world of modest buildings, with balconies displaying clothes hanging out to dry and small ground-floor restaurants and tapas bars, filled with chatter and noise, and permeated by the constant smell of the sea.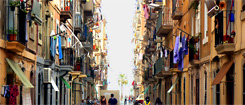 The Barceloneta is a triangular spit of land that cuts into the sea boats in the old harbour, or Barcelona's Port Vell, on one side, and sandy beaches on the other. The neighbourhood, with its narrow, rectilinear streets, was built on a military grid structure to provide accommodation for the former inhabitants of La Ribera who had lost their homes due to the construction of the citadel. The houses were low-rise and small in scale so as not to obstruct views of the city.
The Barceloneta was once the home of fishermen, people associated with the fishing trade and the metal industry, and is now one of the city's most visited and popular districts. In 1988, in pre-Olympic days, the decision was taken to demolish the old beachfront restaurants, known as xiringuitos, and public baths, heralding a process of opening the city up to the sea and the modernisation of an area which now offers first-class beaches as the main attraction for its visitors.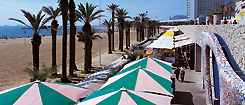 On the sand and inside the neighbourhood, rows of restaurants and bars combine with the traditional images of locals sitting in their chairs in the street and narrow balconies displaying clothes drying in the sun.
La Barceloneta
Other districts
Here you'll find other districts you might be interested in

Barcelona Restaurants
The Catalan capital is also a culinary capital: prestigious chefs serve up our traditional cuisine and the flavours from around the world. Can you decide on one?

Tourist Material
Tourist brochures to discover the places of interest, the museums, the cultural activities and the best suggestions for visiting the city.

Where to shop
You'll find the magic of shopping as you experience the city. Discover a thrilling form of sightseeing: walking from shop to shop.