The neighbourhood around the former railway station, the Estació del Nord in the Eixample, and the area near the Plaça de les Glòries are in a constant process of transformation. They are transient, changing spaces where tall landmark buildings, such as the Torre Agbar, the Teatre Nacional or the Museu del Disseny, have sprung up in recent years and now form a new central area for Barcelona, below the new section of the Avinguda Diagonal.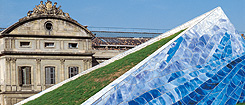 The land adjacent to the former railway station, the Estació del Nord, which closed in 1972, became the site of the Parc de l'Estació del Nord. It is surrounded by a neighbourhood full of architectural jewels, ranging from the modernista-style former station building, now the city's main bus terminal, to other buildings such as the Dipòsit de les Aigües, a former water tower which now houses the library of the Universitat Pompeu Fabra, or the building of the electricity company Hidroelèctrica.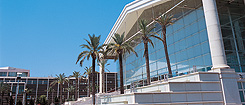 More recent buildings include the TNC, or Teatre Nacional de Catalunydesigned by Ricardo Bofill in the shape of a glass Greek temple, and the concert hall, L'Auditori, designed by Rafael Moneo and opened in 1999, which combines the sobriety of its modern exterior with a symphony hall that can hold an audience of up to 22,000. It is also home to the Museu de la Música.
Jean Nouvel's majestic Agbar Tower has stood in the Plaça de les Glòries since 2003, rising into the air like a tall geyser.
Estació del Nord and Glòries
Other districts
Here you'll find other districts you might be interested in

Barcelona Restaurants
The Catalan capital is also a culinary capital: prestigious chefs serve up our traditional cuisine and the flavours from around the world. Can you decide on one?

Where to shop
You'll find the magic of shopping as you experience the city. Discover a thrilling form of sightseeing: walking from shop to shop.

Tourist Material
Tourist brochures to discover the places of interest, the museums, the cultural activities and the best suggestions for visiting the city.