This part of the Eixample district has everything you need. Here you'll find the historic Barcelona University building; modernista landmarks such as the Casa Golferichs; the Parc de Joan Miró, and two important food markets, the Mercat del Ninot and the Mercat Sant Antoni, which give vibrancy and inject life into this Eixample Esquerra neighbourhood.
The Avinguda de Roma links two sections of the left side of Barcelona's Eixample. To the south, we find the oldest part of the district, built at the end of the 19th century at the same time as the neo-Romanesque Barcelona University building, in the Plaça de la Universitat. Nearby, is the section known as the Ninot, which takes its name from an old inn which had a carving of a small child (the ninot) outside. The carving now stands above the market entrance. As you walk through the neighbourhood, you'll be surprised by the bustle and activity of the shopping streets, and the ones around the busy Mercat de Sant Antoni. The area between the Ronda Sant Antoni and the Ronda Universitat is known as the "Gaixample", where Barcelona's gay community have opened bars and restaurants.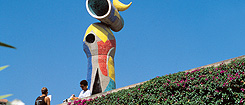 Further west, the most modern part of the left side of the Eixample consists of buildings in different architectural styles built from the 1930s onwards. However, the landmarks are two older buildings: the old Batlló factory, now the home of the technical college, the Escola Industrial, and the former municipal slaughterhouse, now the site of the modernista style Parc de Joan Miró, with the artist's monumental sculpture Dona i Ocell (Women and Bird) rising up in the centre.
Esquerra de l'Eixample
Other districts
Here you'll find other districts you might be interested in

Barcelona Restaurants
The Catalan capital is also a culinary capital: prestigious chefs serve up our traditional cuisine and the flavours from around the world. Can you decide on one?

Tourist Material
Tourist brochures to discover the places of interest, the museums, the cultural activities and the best suggestions for visiting the city.

Where to shop
You'll find the magic of shopping as you experience the city. Discover a thrilling form of sightseeing: walking from shop to shop.