The word Raval, which comes from the Arabic Rabad, means neighbourhood or district. Once home to a cluster of convents and hospitals in Barcelona, the Raval has become a multicultural mosaic where the mix of modernity and the past of the former Barrio Chino, have made it a pole of attraction for people from all over the world.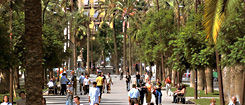 Barcelona's Raval neighbourhood, which was hemmed in by the city walls until 1859, is now bounded by La Rambla, Carrer Pelai, the Ronda Sant Antoni, Ronda Sant Pere and the Paral·lel. These ancient Roman roads marked out the boundaries of the walls which were demolished so that the rapidly growing city could expand.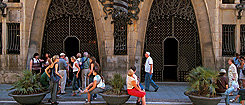 Within these perimeters, this area, which had been the site of fields and convents until the mid-19th century, saw the construction of textile mills and workers' houses throughout the network of narrow winding streets in this Barcelona neighbourhood. As a result of its industrialisation and proximity to the port, the Raval became a neighbourhood with a high immigrant population, where social problems were commonplace. And it was because of this that the journalist Àngel Marsà christened it the Barrio Chino in 1925, a monicker still used until fairly recently.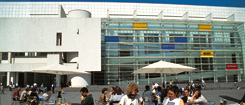 The efforts made by Barcelona City Council since the 1990s to clean up and improve living conditions in Raval neighbourhood, by building new streets, such as the Rambla del Raval, and creating institutions which have had a major impact on its social and cultural life, such as the Centre de Cultura Contemporània and MACBA (Museu d'Art Contemporani de Barcelona), have given the Raval back its reputation and prestige.
El Raval
Other districts
Here you'll find other districts you might be interested in

Barcelona Restaurants
The Catalan capital is also a culinary capital: prestigious chefs serve up our traditional cuisine and the flavours from around the world. Can you decide on one?

Tourist Material
Tourist brochures to discover the places of interest, the museums, the cultural activities and the best suggestions for visiting the city.

Where to shop
You'll find the magic of shopping as you experience the city. Discover a thrilling form of sightseeing: walking from shop to shop.