Barcelona has ten accessible beaches, with Wi-Fi and excellent amenities and services inviting you to enjoy the Mediterranean Sea throughout the year.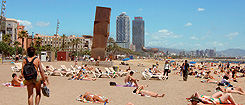 Barcelona is a city open to the sea. The broad beaches of the Catalan capital, which extend almost for 5 km, are blessed with fine golden sand and shallow waters for bathing. They constitute one of the largest areas of leisure available to locals and visitors in Barcelona alike. They are never more than just a few minutes away from any point in the city, since they are easily reached by public transport or by bicycle. Equipped with all the necessary facilities and services, every year they are visited by around seven million people.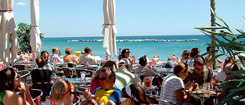 The beaches provide a perfect complement to the cultural attractions of Barcelona, and all year round they offer a never-ending variety of activities: taking a stroll, passing away the hours on a terrace or in a restaurant, simply enjoying the view and the sun of the Mediterranean Sea, having a bathe, playing some sport, riding a bicycle...

Barcelona Restaurants
The Catalan capital is also a culinary capital: prestigious chefs serve up our traditional cuisine and the flavours from around the world. Can you decide on one?