Barcelona is well connected and has a large amount of car parks. The motorway and road network will take you anywhere in the city by car although it's worth bearing in mind that traffic can be heavy at the main entry points of Barcelona during rush hour.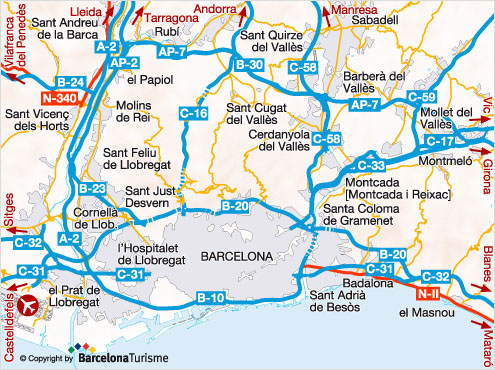 Motorways and roads

Barcelona is located 150 km from La Jonquera, the French border. The French motorway network connects to the AP-7, N-II and C-32 Barcelona motorway. You can enter the city via the ring roads or the Avinguda Meridiana which leads to the centre.
From the south, if you're entering from the rest of Spain join the AP-7 or C-32 and enter the city via the Avinguda Diagonal.
Car parks
Barcelona has a large number of car parks for cars, many of them located in the city centre. Parking rates range from 2 and 3€ per hour to around 35€ for a whole day.
There are also paid parking areas in the street (blue zones + green area) and charges vary according to the zone of Barcelona.

Flights
Are you arriving? Are you leaving? Are you a hardened traveller? Before you book, choose the best prices. Before you know it you'll be packing your case.

Barcelona Hotels
Families, couples, globetrotters and businesspeople… You'll feel right at home at any of Barcelona's 300 hotels, whatever your budget or the reason for your visit.

Barcelona Restaurants
The Catalan capital is also a culinary capital: prestigious chefs serve up our traditional cuisine and the flavours from around the world. Can you decide on one?

[34] 932 853 832
If you have any question during the purchase, please call us!