It's impossible to get bored in Barcelona: the best concerts, exhibitions and events related to art, culture and leisure await you, week after week. Here are some of the main ones. Don't miss anything this constantly moving city has to offer.
Highlights


1 of 16

Primavera Sound 2013
Festivals | Music pop, jazz, folk, flamenco...
Parc del Fòrum
From 22/5/2013 to 26/5/2013
A new edition of the now classic indie music festival of Barcelona
Ciutat Flamenco 2013 Beyond tradition
Festivals | Music pop, jazz, folk, flamenco...
Mercat de les Flors
From 23/5/2013 to 26/5/2013
Revised Flamenco

Il turco in Italia - Rossini
Classical music and Opera
Gran Teatre del Liceu
From 18/5/2013 to 6/6/2013
An example of the "turquerías" fashion of the 19th century.Online shop

Noa & Solis String Quartet
Music pop, jazz, folk, flamenco... | Festivals
L'Auditori
23/5/2013
An Italian fusion
Sporting agenda

40è Trofeu Conde de Godó
Sports
Reial Club Nàutic de Barcelona
22/5/2013
To 26/5/2013


Cursa DiR – Guàrdia Urbana
Sports
Av. Diagonal / Av. Doctor Marañón - Fòrum
26/5/2013

Family activities

En Letra Menuda –Teia Moner
Family activities
Poble Espanyol de Barcelona
5/5/2013
To 26/5/2013


El Cuaderno Animado
Family activities
Fundació Joan Miró
5/5/2013
To 26/5/2013

The agenda day by day
Here you'll find other events you might be interested

Tickets
Barcelona hosts some of the best sporting and cultural events every day. Buy your tickets here and make the most of your time.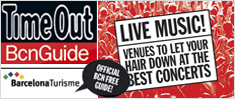 This spring in Barcelona
The spring is the perfect time to take a stroll through the streets and enjoy the cuisine and open-air activities.
Walk through the parks, discover the beaches, visit a museum or take a short trip out of town.
Barcelona welcomes you to...
© Turisme de Barcelona 2013